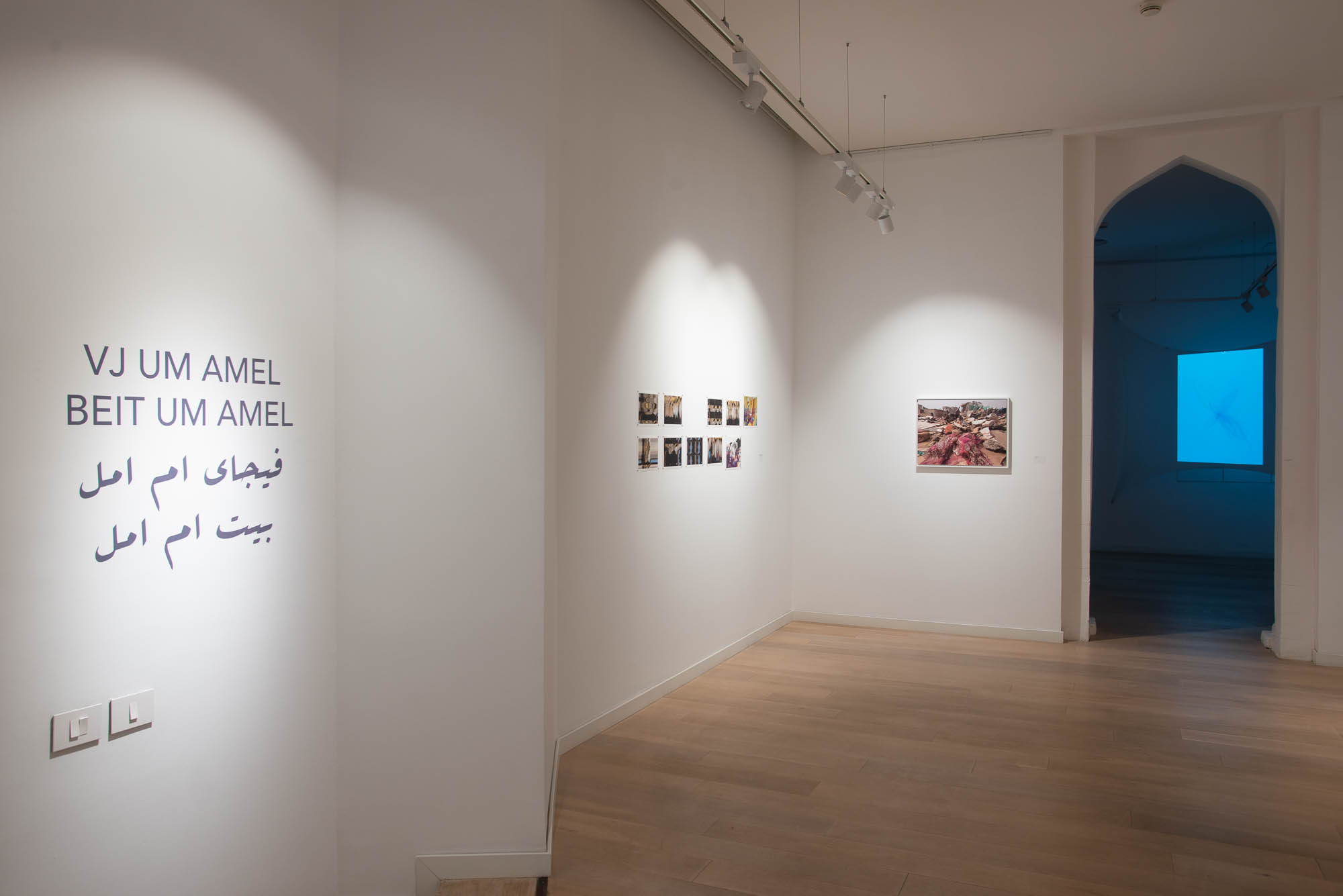 Beit Um Amel/ /بيت ام امل
10 works: interactive, sculpture, metal, canvas, and projection.
Future Gallery, Tahrir Cultural Center, American University in Cairo
Curated by Shiva Balaghi, Ph.D., February 12 – March 11, 2020
Reviews
Al-Ahram
Hyperallergic
Al-Bawaba
Brochure (download PDF)

Curatorial Essay
Beit Um Amel: a Place Beyond the Digital Divide
by Shiva Balaghi
"VJ Um Amel is a name I use in a set of art practices where I explore the implications of placing the identity of 'mother' and a techno-feminist construct of 'cyborg' within local and transnational expressions of 'Arab.' I bring these words together in order to challenge us to think of what we are creating as technically-savvy 21st century humans?," explains Laila Shereen Sakr.
For her first solo exhibition in the Arab world, VJ Um Amel transforms the Future Gallery at the Tahrir Cultural Center of the American University in Cairo into her home. Beit Um Amel is an alternative space, where data and images are captured, digitally manipulated, reimagined, and shared. The Triangulation Series  (2015-2017) are glitched images printed on canvas of people and places, moments and happenings that inform the digital atmospherics of Beit Um Amel. The images are digitally processed until they are rendered into ethereal impressionist pictures. There are a series of self-portraits of VJ Um Amel, assembled in Cyborg Montage (2017-2019). A remix of the complete Portrait of a Cyborg series, the installation is a consideration of form and content, composition and materiality, virtuality and data.
Through the filtered, pixalated, mosaiced and glitched pictures, VJ Um Amel shows us abstractions that fade and then crystallize again into new interpretations of reality. "It's about noise and glitch, about distortions and diffusion that we have to navigate when we work our way through data," VJ Um Amel explains. The pictures blur the line between what can be seen and what can be experienced, what once was and what may yet come.
VJ Um Amel's Touch Data Body X (2018), presented on a laptop computer in the gallery, is an interactive media installation that enables users to manipulate the frequency modulation of the source photographs used to create Triangulation Series and Cyborg Montage. The artwork, then, only becomes complete through interface with the participant viewer, guests in Beit Um Amel. With Touch Data Body X, VJ Um Amel "tries to find the soul of the machine by expressing the idea that computer malfunctions expose something for which they are not prepared." 
R-Shief Portal (2020), installed on a series of wall mounted ipads, is an interactive application that allows visitors to review a virtual archive of over twelve years of data collected by VJ Um Amel. "I use emergent technologies to expand our vocabulary for communicating with each other beyond traditional language," the artist explains. "Similar to the way in which punk music was a reaction against hyper-polished rock-n-roll of the time, this aesthetic that is based on computer malfunction, or glitch, is a reaction against the ultra high-definition images saturated beyond real color that are portrayed in contemporary media." New technology becomes a tool for using machine generated data to question the traditional archives, central to the production of knowledge.
A passage through an archway, original to the palace building of the Tahrir Cultural Center, guests at Beit Um Amel enter the Rosetta Archive—visual data representations of the immense and unwieldy social media activity related to upheavals across the Arab world from 2011 – 2012.  The immersive experience offers a new perspective on the complex data shared between millions of people. "The immersive experience offers a new perspective of what remains somewhat unfinished and unknowable," the artist elaborates. "It allows one to experience through the senses what can not be processed cognitively or rationally."
VJ Um Amel's artistic intervention suggests that there is no longer a digital divide between theory and practice, that the integration of technology into our every day lives means we are all already living an immersive digital experience. Welcoming visitors into her home, the cyborg asks that we navigate shifting data landscapes with greater attention and awareness. "Welcome to Beit Um Amel," the artist beckons. "It is a place that gives birth to hope."
Installation shots by Barry Iverson.